Hardfacing – term used for restoring parts, that have been worn down due to metal-to-metal friction or severe impact, to their original dimensions.
Avweld use Hardfacing (the application of a hard material onto a machinery surface) to prevent wear through abrasion, erosion, corrosion or impact. Avweld apply various types of hardfacing to give your equipment the longest life in the harshest environments.
There are many different types of hardfacing, suitable for many different applications! Not all hardfacing will work in all applications. Speak to Avweld to get expert hardfacing advice.
In addition to providing a full repair and maintenance service, Avweld can also supply hardfacing wires, rods, electrodes and powders, for use by our customers. We supply the full range of products available from our welding consumables division Alloys International.
Tungsten Carbide Hardfacing
Tungsten Carbide Hardfacing is the best available material for abrasion resistance. However, it does have less impact resistance than other types of hardfacing. When applied by the PTA process, it can be applied relatively thickly in 3mm layers. Avweld apply tungsten carbide using robots for the best consistency. Tungsten carbide is also applied by the HVOF thermal spray process to apply thinner coatings.
Avweld have developed an exclusive range of tungsten carbide coating materials for use with the PTA which has unmatched abrasion resistance throughout Australia.
Chrome Carbide Hardfacing
Chrome Carbide Hardfacing is a popular choice for ground engaging tools (GET) and in mining and mineral processing. Chrome Carbide is the hardfacing used in composite wear plates such as AbrasaPlate. It is available in sheet form with up to 20mm thick hardfacing. This can then be cut, rolled and welded to apply to wearing parts. Chrome carbide can be applied by PTA, MIG, HVOF and Arc Spray processes.
Martensitic Hardfacing (Tool Steel)
Martensitic Hardfacing (such as AI-1746) is applied primarily using the MIG welding process. It is one of the most commonly used types of hardfacing, used in general purpose applications. AI-1746 has good impact resistance, and good abrasion resistance.
Chrome Boron Hardfacing
Avweld's AV10 Chrome Boron hardfacing is a work hardening high chrome (~27%) alloys made exclusively for Arc Spraying. AV10 is a great choice when no heat input to the substrate is allowed. The Arc Spraying process is a cold process, where the temperature of the substrate never goes above 100 degrees. So there is no deformation or metallurgical changes. AV10 can be applied up to 2mm thick.
Ceramic Hardfacing
Ceramic hardfacing is applied in very thin, very hard layers. Ceramics have extremely high melting temperatures so need to be applied by the Plasma spray process. Materials such as Chrome Oxide, Aluminium Oxide, and Titanium Dioxide are used for a mixture of corrosion and abrasion resistance.
Nickel alloys (such as Inconel™​) and Cobalt alloys (such as Stellite™) are most commonly used for the corrosion and high temperature resistance. However, these materials are often blended with other alloys such as tungsten and chrome to provide high abrasion resistance. Stellite™ 6 is one of the most commonly used materials used for corrosion and abrasion resistance in pumps and valves. Avweld apply these materials using all of the processes listed on this page. We are also able to supply solid castings of Nickel and Cobalt alloys.
*Stellite
™

is a trademark of Kennametal Inc and Inconel

™

is a trademark of Huntington Alloys Corp.
Plasma Transferred Arc (PTA) Welding
Plasma Transferred Arc (PTA) Welding is a welding process with relatively low heat input. The low dilution means that the best possible hardness is possible in a single layer of 2-3mm thick. PTA welding provides similar properties to Laser Welding for cladding applications. Avweld use robots for our PTA welding process to ensure absolute consistency.
HVOF Hardfacing
High Velocity Oxygen Fuel (HVOF) is a thermal spray process which combusts oxygen and flammable gas to provide a very high speed flame. Avweld use the latest HVOF system from Flame Spray Technology in Europe. This process provides extremely dense coatings with virtually no porosity.
HVOF is used to spray hardfacing such as tungsten carbide and chrome carbide. It can also be used to spray nickel and cobalt alloys.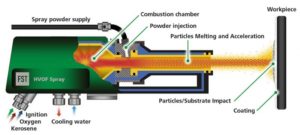 Arc Spraying Hardfacing
Twin wire arc spray uses an electric arc to melt two wires against each other, and then blow the molten metal onto a surface using compressed air. The process is fast, and thick build-ups are possible. Avweld regularly use twin wire arc spray to apply hardfacing to large jobs. Arc spray can also be used for dimensional restoration of worn parts.
Plasma Hardfacing
DC-plasma spray systems are used primarily for the application of high melting temperature ceramic coatings. The system works by ionising a plasma gas using extremely high currents, to create a plasma flume at a temperature of around 30,000°C. Avweld have Australia's most modern and most technologically advanced plasma spray system.
Spray-and-fuse Hardfacing
Spray-and-fuse is the process where a metal sprayed deposit is heated to the point of melting, and then forms a metallurgical bond with the substrate. This is frequently used with nickel based hardfacing coatings.
MIG Hardfacing
MIG welding is used commonly across many industries because of its ease of operation and low capital costs. Hardfacing is commonly applied using the MIG process. Material can include martensitic alloys, chrome carbide, tungsten carbide and nickel/cobalt alloys. MIG welding has a relatively high heat input, so distortion of parts can be an issue. It is also important to be aware of the metallurgy of the substrate, as some substrates can be difficult to weld.